Call for Papers
[Journal Features]
NYCU Law Review is a peer-reviewed law journal published twice a year, in June and December. Based on the principles of internationalization, empiricism, and interdisciplinary, our journal encourages legal innovation, reflects social realities, pursues fairness and justice, and promotes interdisciplinary dialogue.
NYCU Law Review is included in prominent legal databases in Taiwan, including Angle Lawdata (www.lawdata.com.tw) and Lawbank (https://www.lawbank.com.tw/). Additionally, our journal is listed in Directory of Open Access Journals (DOAJ: https://doaj.org/), ensuring its accessibility to a wider audience. Moreover, our journal has been added to HeinOnline (https://home.heinonline.org/) since 2023, further expanding its readership. We welcome submissions in both Chinese and English.
[Covered Topics]
Intellectual property and knowledge entrepreneurship, corporate law and financial criminal law, social justice and gender equality, labor rights, biotechnology and medical law, digital economy and information communication law, basic legal studies, professional ethics, legal education, arbitration and mediation, litigation, non-litigation, and legal enforcement.
[Submission Format]
Please ensure that all submissions include titles, author names, abstracts, keywords, and references in English. Citations should be formatted according to the Bluebook style guide, and a bibliography should be provided at the end of the work. If the submission is a translation, please include the original text and a letter of consent from the original author.
Please limit the English and Chinese abstracts to 400 words. Include 5 to 8 keywords for each submission, and ensure that the length of the submission does not exceed 20,000 words.
The author holds full responsibility for the submission. Any work found to involve plagiarism or simultaneous submission to other journals will not be accepted.
Please submit your work via email in .doc or .rtf format to nyculawreview@gmail.com.
[Review Process]
NYCU Law Review adopts a double-blind peer review system. All submissions are subject to be reviewed twice. The results of review will be notified to the author in due course.
Works already published, in whole or in part, in another publication, will not be accepted.
In cases where the article exceeds the word limit or the number of manuscripts exceeds the capacity of a single volume, the Editor-in-Chief reserves the right to make appropriate adjustments to the wording, layout, and publication order based on the relevance of the submissions and their timeliness.
NYCU Law Review does not have article processing charges or submission charges.
[Copyright and Licensing]
The author retains copyright for his or her work, and licenses NYCU Law Review to publish the work on its paper-based journal and on its website. With consent of the author, NYCU Law Review may further license the published articles to electronic databases chosen by NYCU Law Review. Such licensed Databases will have a non-exclusive right to reproduce, to make public transmission, and to allow qualified users downloading or printing the articles via electronic means. The database may also change the format of the article should the database has any editorial needs.
[Standard of Review]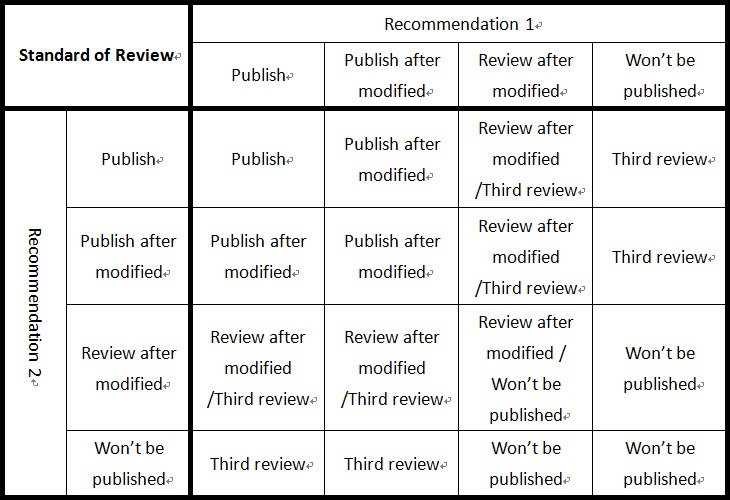 | | |
| --- | --- |
| NYCU Law Review is an Open Access journal under CC BY-NC-ND. | |